This is Your Brand… Any Questions?
Many factors go into creating great, original content. Several working parts combine to produce a powerful and memorable message to your audience. It can be done visually, through rich and vivid photography or video. It is also accomplished through creating strong, original written text. Presenting such engaging content can stimulate the reader to remember your message and make them to want to see more. The consistent creation of content that directly appeals to your audience is essential in building a powerful brand. Developing a successful marketing strategy is dependent on the story you tell invoking curiosity in the reader. You not only want them to remember, but to trust what you say, and long to hear more.
Remember that old public service announcement (PSA) where the man stood at his stove? He first held up an egg. "This is your brain." Next, he points to a pan on the stovetop. "This is drugs." Then, he cracks the shell, and the egg sizzles as the contents fry on the hot skillet. "This is your brain on drugs, any questions?" To me, it stands out as one of the more memorable advertisements I've ever seen. But why? What makes it so memorable? How did its creator embed their message in my brain (which for the record, is not on drugs) that still stands out 33 years after it originally aired in 1987? Well, to answer as this PSA might, it's all about content. Dynamic, engaging, relevant, consistent, original content. Any questions?
Actually, outside of mimicking that iconic 30-second Partnership for a Drug-Free America (PDFA) spot, the answer is yes. So, to get some answers on content creation, let's look back at that memorable PSA. As we do, our focus is on five areas that make this thirty-plus-year-old TV ad still effective today. More specifically we'll show how these same five parts are crucial pieces in creating engaging blog content for your website. 
Know Your Audience
The effectiveness of that PSA shares many ways that would parlay into writing similarly effective blog content. To begin, you have to know your audience. Sure, that is a huge audience in the case of the PFDA organization. They are looking to reach kids and teens that may soon be exposed to drugs. But the message may also take aim at those already hooked on drugs, family members of those with drug issues, etc.
Regardless, it is undeniable that they had a specific target audience. Before you ever put one finger on your keyboard to begin crafting content for your blog, you too should visualize the niche market your words are aimed towards. This audience you "write to" is the one you are looking to catch the attention of and allure into returning to see more in the future.
Grab Their Attention Immediately
We have all heard the quote/slogan, "You never get a second chance to make a first impression." Some attribute this famous saying to Irish poet and playwriter Oscar Wilde. Others credit star of film and beloved cowboy Will Rogers with the quote. A modern audience probably knows it best as the pitch line for Head and Shoulders shampoo commercials. No matter who said it, there may be no better way to describe the importance of capturing the attention of your desired viewers.
Developing eye-catching headlines and some type of strong visual presence at the top of your blog posts is a must. An appealing photo or relevant video of some sort accompanying an exceptional title can make all the difference. This is where the reader you targeted is going to "keep scrolling" and read or go look elsewhere. Most times, if they leave, they're gone for good.
In our video, the man opens dramatically asking, "Is there anyone out there who still isn't clear about what doing drugs does?" This comment from the seemingly irritated speaker is tough to turn away from. Think of multiple directions that one statement could lead-in. It leaves you almost needing to keep watching and see where he is going with this statement. The viewer is hooked, just like a reader would be to your witty, relevant headline and eye-popping visual intro to a post.
Once You Got Them, Keep Them
By thorough research and analyzing the competition, you know exactly what type of audience you see as your potential client base. The selection of your topics has been aimed with these demographics in mind. The perfect headline has appeared above your text and the picture along with it is a true thing of beauty. The line was cast out, you felt a slight tug, and then you reeled them in. But, all of this is for nothing, if they get two lines into the content and have no clue what you're talking about. There are several significant points to remember in how you layout your creative content that will keep readers coming back for more.
Put simply, make your content "easy on the visitor's eyes." Being clear and concise by using shorter paragraphs and dividing material under subheadings presents an appearance of an organized and easier read. You are targeting these people., they are here to read what you have to say. Their potential interest in your services is there, or they wouldn't be reading your blog at all. So, they aren't looking to leisurely page flip through a novel here. They want to see what you got to offer in a reasonable amount of time.
Remember our PSA guy's dramatic opening line? Left us itching for what he would say next. We couldn't wait. But what follows is the difference between me yawning as I click to a different channel or staying enthralled as I was by his lead-in. After just three words following our intro, he picks up the egg. "This is your brain," follows. The man speaks less than 15 words the rest of the video. Thirty-three years later anyone who ever saw this commercial still remembers it. It was aimed directly at his desired crowd and also featured some of the best usages of our next topic area arguably in television history.
Visual is Memorable
The human brain processes visual content much faster than it comprehends any text written material. Professional, dynamic photography or videos accompanying your blog posts gives the potential client a picture to put with the words. As children, we wondered aloud as our kindergarten teacher read those lengthy fairy tales, "Are there any more pictures?" You are the kindergarten teacher, and the client still wants to see the "Cat in the Hat." Eye-grabbing visuals not only help draw the customer in initially. But added throughout the relevant written text, it can break up content and help the reader enjoy a smoother flowing and faster read.
The visual accompaniment in the "This Is Your Brain on Drugs" PSA is one of the most memorable in television history. The egg in hand, cracking it into the pan as it sizzles and fries. This with the "short and sweet" delivery of what is that commercials "text" is content magic.
Killer visuals to accompany your written blog content can be a real difference-maker in creating content that will build a repeat visitor base. On the contrary, the lack or misuse of them can simply be a killer.
Close with a Clear Call-to-Action
You got 'em! You have "aced" this particular article when it comes to providing engaging, original content to the specific niche audience you desired. Now what? Well, if targeting them to begin with you must see them as a potential client. So, you delivered on creating content relevant to your brand. You want them to come back so you can continue showing them what you have to offer. Bring them to a point of comfort and trust in your content and company. So, all that being said, don't forget to add a crystal clear call-to-action.
This can be many things. Leave a comment below. Please share our blog post. Follow us and give us a like on social media. Subscribe to our blog or newsletter. When you have form a connection with the reader and they truly find your content and blog posts helpful and insightful, they are usually thrilled to share and spread the word. Consequently, as they find your work insightful more consistently you earn their trust. As a result, you more often than not earn that reader's business.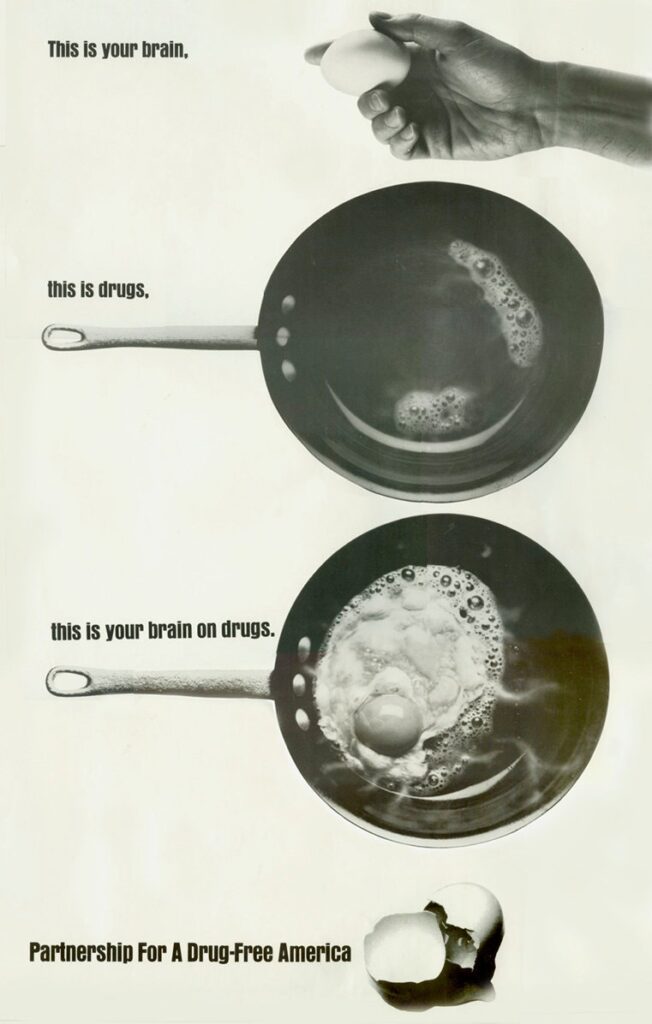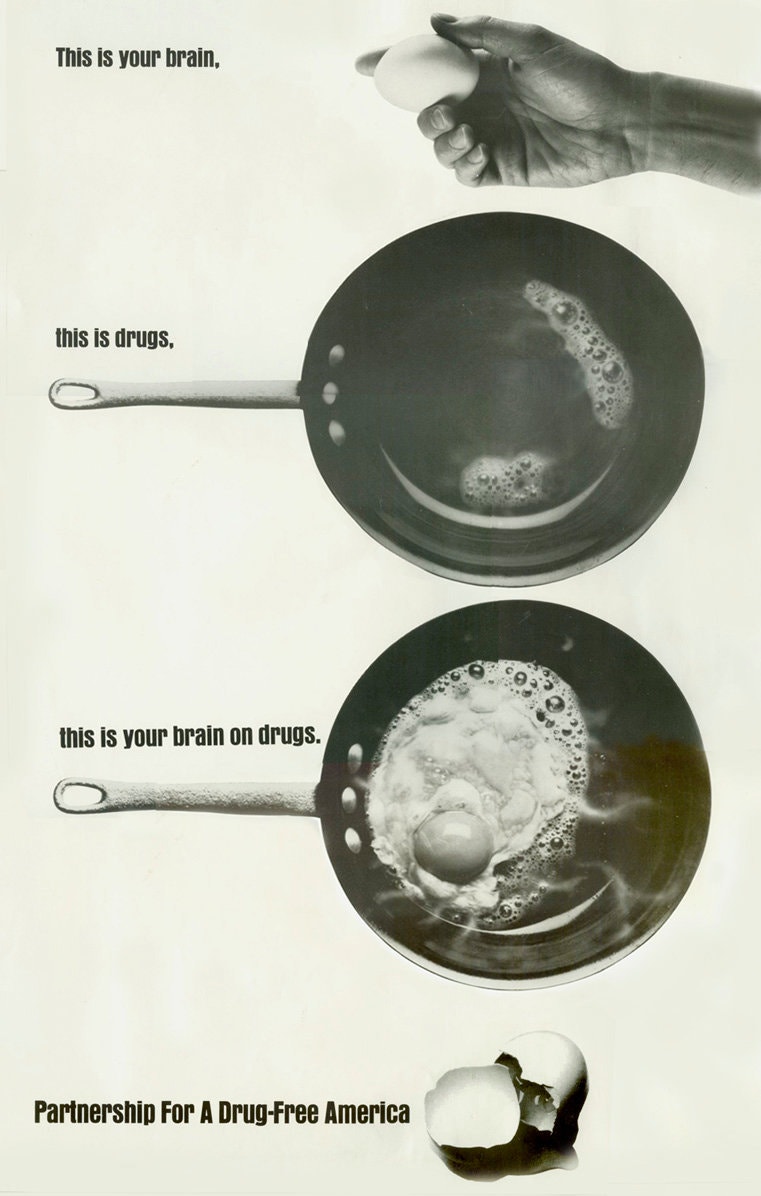 As for our PSA and their Call-to-Action? Well, I've raved about the effectiveness of their strong lead-in to hook their desired audience. Praised their concise and dramatic content both in "text" and visually to keep eyeballs on the screen. Dubbed the visual aids as television history. But maybe the biggest testament to the power of this announcement is the obvious call-to-action and message to warn of the harms and urge you to say no to drugs. The fact is the content was so strong in getting to the message, they never actually even have to say it.
Any questions?